Sugar Bowl Uphiller
April 2 @ 7:30 am

-

4:30 pm

UTC-7

$20
Who remembers the infamous Quad Crusher? The NEW Sugar Bowl Uphiller is a spin-off that still involves uphill travel but allows participants to choose the amount of vertical climbing they want to do. The goal is to rack up as many human-powered "Lincoln laps" as you can in a day… without the help of a chairlift.
Start from the Judah Lodge at your own pace and use the designated route to skin up to the summit of Lincoln. At the top, check in with the race attendant to log your lap. We'll have a pop up bar with refreshments, a DJ, and lawn chairs in case you need a break! For every lap you take, you'll earn a progressive amount of raffle tickets and a better chance to score a sweet prize at the awards ceremony. When you ski/ride back down to the Judah Lodge to complete your lap, check in with the race attendant located at registration. We'll be stationed at Deschutes' famous "Woody" pop up bar near the sundeck. Whether you want to do one lap or 10 laps, all uphillers are welcome at this event. When you need a break from all skinning, hang out with us at the pop up bars at the summit of Lincoln or the Judah Lodge. We'll have live music, beverages, and lots of good vibes.
DETAILS:
Registration: 7:30am-10am
Stop by the Deschutes "Woody" (giant wooden barrel pop up bar) at Judah Lodge and receive a bib. We'll log your laps on this bib, so don't lose it!
Event: 8:30am-2:30pm
Lap 1: From Judah, participants skin to the top of Lincoln using our designated uphill route. Participants earn one raffle ticket when they reach the top of Lincoln (where a DJ & pop up bar will be operating and open to the public). Then ski back down to Judah station and receive another raffle ticket.
Lap 2: Participants skin back up and, upon their second tag of the Lincoln station, they receive 2 raffle tickets, same with their tag back at Judah station.
Lap 3… and so on… A third tag of each station earns participants 3 tickets. A fourth tag… you get the idea.
**Each lap is approximately 1,400′ of elevation gain.
***Bonus raffle ticket if you come in costume.
Awards & raffle: 3:00pm
At the end of the event, we will raffle off some great prizes. The more laps you take the better chance you have of winning!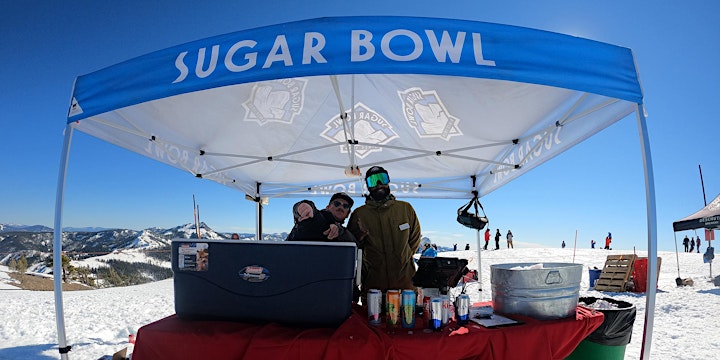 Want to participate but need to rent gear?
Tahoe Mountain Sports is offering 50% off rental setups with coupon code: "SBUPHILL"